Robert Waltzer Sensei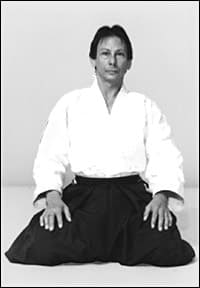 Robert Waltzer Sensei
Dojo-Cho Director, Aikido of Queens. Born and raised in Brooklyn, New York, Waltzer Sensei began his training in martial arts in 1969. From the beginning, he knew that his commitment to the martial arts would be lifelong.
Along with Aikido, he also holds the rank of black belt in Jujitsu and Karate (Go-Ju Ryu). His 40 years of teaching experience is clearly evident in his ability to break down techniques and teach students of all abilities while leading exciting and stimulating classes.
As part of an effort to educate the public on the beauty, elegance and power of Aikido, Waltzer Sensei conducts seminars and demonstrates throughout Queens, Nassau County and New York City. Through these on-going outreach activities, his efforts attract a wide variety of students. His years of experience as both teacher and student have enabled him to create a learning environment where students are both focused and relaxed and where they are able to maximize their individual potential while they work in harmony, cooperation and mutual respect.
His years of training in the martial arts have with a clear understanding of the importance of a sensible, practical approach to self-defense. Experience has shown him what will and will not work for today's world. He has taken this knowledge and incorporated it directly into his teaching style.
He is an adjunct professor at LIU/CW Post (Brookville Campus) and he instructs law enforcement personnel from federal, state city and county agencies along with Correction Department, Court Officers, Private Investigators, Security employees as well as public and private students. He is the defensive tactics instructor for the Midshipmen at the United States Merchant Marine Academy (USMMA) at Kings Point, New York. He has been featured in the New York Times, Crain's New York Business Magazine, on Japanese television, in the book "Martial Arts For Kids" and was inducted into the Martial Arts Hall of Fame. Always giving back to the community, he teaches children's classes through Great Neck PAL, Great Neck Park District and conducts safety awareness workshops for public and private schools, Boy and Girl Scouts, Senior Citizen Centers, and other community groups.
Waltzer Sensei trained directly under Richard Bowe Shihan, the U.S. Director of Nihon Goshin Aikido. He is a full-time professional Aikido instructor.
No Tournaments - No Equipment Needed